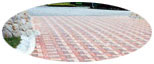 Landscaping Pavers - Tumbled Pavers
Clayon Tumbled Paving Bricks are a popular choice for today's landscape gardening. Our tumbled pavers are specially designed to give your garden a rustic and antique look that will certainly bring out its true beauty.
Our special tumbling process reduces the corners and edges of the clay pavers to give them an aged impression that will make them look like they have been in your garden for years!
Clayon tumbled paving bricks are available in red, cream, grey, and brown.
---