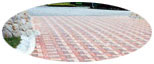 Landscaping Clay Pavers
Made from the finest clay with strict quality control, Clayon chamfered paving bricks come in a wide range of beautiful colours. With their distinct features, there is no doubt that Clayon paving bricks are the natural choice for domestic and commercial applications, such as driveways, patios, or entertaining areas.
Research has shown that clay pavers are better than concrete pavers as they offer better colour, natural warmth and degree of colour permanence that is not found in concrete pavers. Clay pavers are also more enduring, much denser and stronger as well as having longer useful service life and better appearance than concrete pavers, which can actually increase your home's value by an average of 7% (Brick Industry Study).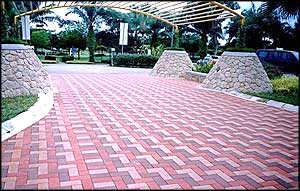 Clayon chamfered pavers are available in the following series:

The colour range includes red, cream, grey, and brown. Custom-made colours may be available upon request.

The following are some of the benefits that Clayon chamfered pavers can bring to you:
Strength and Durability - Clay paving has the ability to accept an extreme point of loading so they are suitable for various paving applications such as landscaping, pedestrian thoroughfares, vehicular access, residential development and municipal projects.
Interlocking Flexibility - Clay chamfered pavers can help create a flexible surface where if the underlying materials move, clay paving will follow the line of settlement without loss of integrity.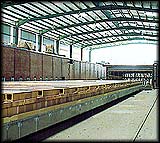 Whole Life Costing - In the long term, clay paving offers a significant cost advantage over alternative surfaces as they have longer useful service life, recycleability, effective reinstatement properties and require lower maintenance.
Slip/Skid - Clay chamfered paver's excellent slip/skid resistant properties make it ideally suited to highway and pedestrian use and their high abrasion resistance feature is ideal for heavily trafficked pedestrian areas.
Speed of Laying - Clay pavers can be laid easily and quickly, thus, reducing installation costs significantly. Moreover they can be laid under most weather conditions and trafficked immediately after work is complete.
Environmental Friendly - Clay pavers are produced with 100% natural clay and their colours will not fade for years to come.
---